Fifty-eight students from the 9th grade class of the Firestone Liberia School System, all female, were recognized for maintaining the highest scholastic averages for the first semester of academic years 2021-2022.
The special day of recognition included a tour of key Firestone Liberia company installations and presentations by senior leadership.
Firestone Liberia's Director for Human Resources and Social Services, Marion Wreh-Socree said during the tour, "We are doing this to help in breaking a negative culture that impacts so many of our young girls, such as having children before graduating from high school. It is also critical that we build a reading student population, so we are instituting programs in our schools to encourage reading and comprehension."
The students received guided tours of the company's Hydro Power Plant, the Central Offices, the science laboratories of the Division 44 Senior High School, and the Human Resources Department.
"We say a big thank you to all who worked so hard to make this day a success for us. Nowadays, not many people think about girls as much in Liberia; not many people think about our future", 9th Grader, Jile Z. Yawhy said speaking on behalf of the student group. 

Yawhy, age 14, went on to share that she intends to become a lawyer in the future. "We need to make a name for ourselves and contribute positively to our country and community. That is why this experience is so useful. We have learned a lot today about how Firestone operates," she said.

Welcoming the Students at Central Office, Firestone Liberia's General Manager Don Darden said, "You're here today as our honored guests and we're proud to have you. In this room we have hosted Presidents, Ambassadors and many other special guests who have sat in your very seats. Life can be difficult but, in a way, life is very simple if you know what you want. Firestone Liberia is privileged to have many talented and successful women who can serve as an inspiration for you".

"You are each a beautiful creation, but you must live up to your potential. Education is a gift you are receiving, and you must decide what you will do with it. Make sure you have a mission; plan and it will all get back to the simple question; what do you want? If you know what you want, it is always going to be much easier to reach that goal. You've began a journey of learning and it's up to you to continue that journey," he said.
Mr. Darden concluded, "I look out on you and see such beautiful faces. I see hope; you are valuable. Others may see you in a certain way that might not always be positive. But you are valuable and that's how you need to see yourself."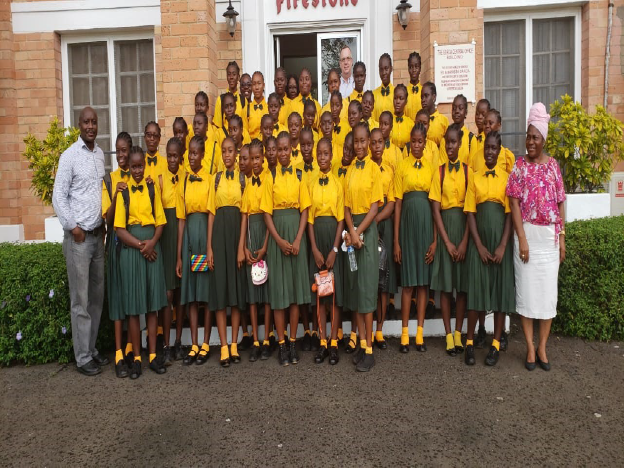 Firestone Liberia Junior High female honor students at Firestone's Central Offices in Harbel.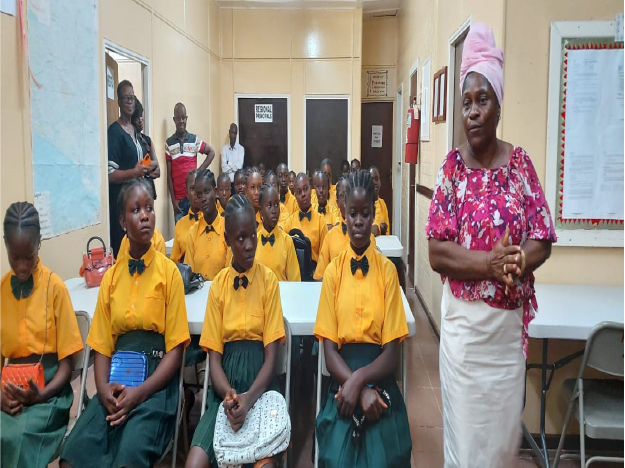 Firestone Liberia's Education Manager Marcia Edwards speaking to the Students on Firestone Schools operations.