Twenty staff members from Firestone Liberia's COMSEC & Human Resources department completed the two-week workshop led by international security consultant, Hillary Lombard.
Organized by the Plant Protection Department, the workshop is designed to enhance work performance and develop skills to help further teammates' careers.
Participants and Firestone Liberia displayed the 'Empowerment' and 'Efficiency,' two of the eight values outlined in Bridgestone's E8 Commitment.
Firestone Liberia staff members from Community Affairs and Security (COMSEC) and Human Resources recently completed a two-week workshop designed to enhance work performance. The workshop, organized by the Plant Protection Department, brought in Hillary Lombard, an international security consultant, to teach teammates different investigative techniques and approaches when handling an incident.
"This training was intuitive, and we covered so many subjects," said Frits Stiemens, COMSEC Director, Firestone Liberia. "Outside of just techniques, Hillary Lombard also educated us on dealing with gender-based violence and human trafficking, which the whole department found insightful."
Teammates from every participating department walked away from the bootcamp gaining knowledge about security that can immediately be used while on duty, regardless of your role.
"With what we studied during this training; I am certain we will improve our performances on duty," said Alexander M. Borbor, Deputy Commander of Criminal Investigation, Firestone Liberia. "The skills we learned will translate immediately to our jobs."
"The workshop was intense, interactive, and rewarding," said Edwin Collins, Security Operation Manager, Firestone Liberia. "I hope we will have similar trainings periodically."
"As a person working closely with security and with the community, all I can say is the training was essential for my work," said Younger Jones, Administrative assistant, Community Affairs, Firestone Liberia.
Firestone Liberia prides itself in empowering its workforce with capacity building opportunities. Similar training workshops will take place in other departments across the company, all of which will be aimed at helping teammates grow in their careers and develop new skills that can be used in the workplace.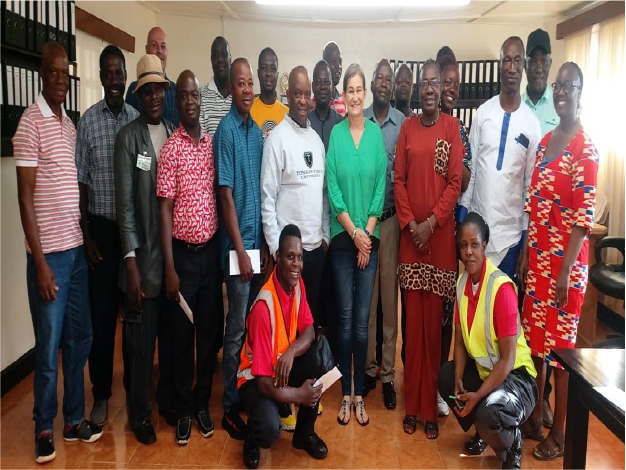 The training supports Bridgestone's E8 commitment, which consists of 8 Bridgestone-like values starting with the letter "E" (Energy, Ecology, Efficiency, Extension, Economy, Emotion, Ease, and Empowerment) that Bridgestone has committed to creating together with employees, society, partners, and customers to realize a sustainable society. Through this workshop, participants and Firestone Liberia displayed the values, 'Empowerment: committed to contributing to a society that ensures accessibility and dignity for all,' and 'Efficiency: committed to maximizing productivity through the advancement of mobility.'
Participants and instructors at the COMSEC training workshop organized by the Plant Protection Department.