Firestone Liberia continues to support COVID-19 efforts in Liberia through further donations of critically needed materials and services, and by also providing vital prevention measures – including using its medical facilities to administer the COVID-19 vaccine.
The company was made aware of the serious need for embalming fluid by a local funeral home, Green Pasture Funeral Service of Unification Town, Margibi County. Without this necessary chemical, safe handling and burial of the deceased is a health and safety risk for our people and communities. Firestone Liberia immediately stepped in to provide a supply of the critically needed chemical solution.

"Firestone Liberia has proven to be a good friend to Liberia. The country's health sector is seriously challenged, and we are overwhelmed daily with new cases of COVID-19. Currently, embalming fluid in the country is in very short supply due to the recent wave of a COVID-19 variant.  When we have nowhere to go, we come to Firestone Liberia – and they do not turn us down. Thank God for Firestone," said Henric Marcus Speare, Green Pasture Funeral Services.

Also, recently Firestone Liberia completely reconditioned a Ministry of Health vehicle that had previously been out of service and unusable. The vehicle is now back on the road to be used by C.H. Rennie Hospital in Kakata, Margibi, County, in support of efforts by the Margibi County health team. This is the second Ministry of Health vehicle Firestone Liberia has reconditioned and returned to service since the start of the COVID-19 pandemic in the country.

"Donations like these are just some of the many ways Firestone Liberia is supporting our communities and the people of Liberia," said Louise Ceasar, manager, Community Affairs, Firestone Liberia. "Our company has a longstanding partnership with the country, and these donations are ongoing proof that Firestone Liberia cares."

In addition to these donations and acts of support, Firestone Liberia is also working to keep our employees and their dependents safe through the ongoing COVID-19 pandemic. The company has maintained all health and safety protocols, including hand washing, temperature and wellness checks, etc., in its workplaces and communities since the beginning of the pandemic. Additionally, working with the Ministry of Health, Firestone Liberia is supporting vaccination efforts through the use of its medical facilities and personnel to make the COVID-19 vaccine more widely available and accepted. To date, the company has administered more than 3,000 doses of the vaccine and is awaiting additional supply so more can be vaccinated.  

"The health and safety of our workers and their dependents is the company's highest priority," said Don Darden, general manager, Firestone Liberia. "The only way we get through this global health crisis is by working together – taking care of one another."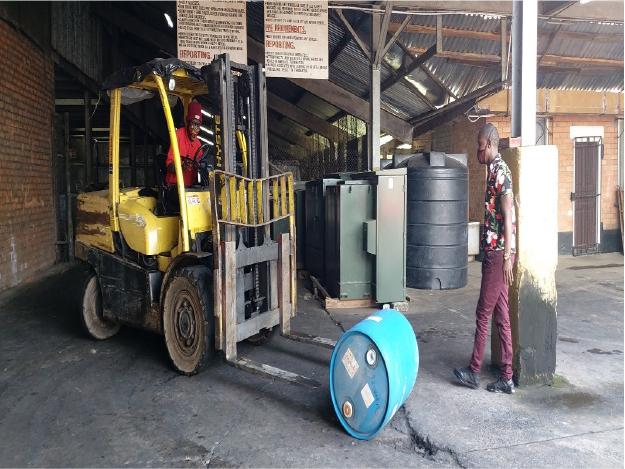 Formaldehyde donation to Green Pasture Funeral Service to support safe handling and burial practices.
Ministry of Health vehicle fully reconditioned by Firestone Liberia and turned over to the C.H. Rennie Hospital in Kakata, Margibi County, in support of the country's public health campaigns.