Firestone Liberia recently hosted 75 students and two instructors from the Civil Engineering Department of the University of Liberia (UL). 
Upon arrival, the students received a brief overview on basic safety information and an orientation presentation on the company's wastewater treatment process from Dr. Herbert Harmon, Firestone Liberia's director of Environmental Health and Safety. The students then went on a guided tour of key company installations that included the laboratory used for water analysis, wastewater treatment plant, and constructed wetland area that serves as a point of secondary treatment in the process. 
"Hosting the students from The University of Liberia to learn more about our environmental best practices is in keeping with our mission to share knowledge," said Dr. Herbert Harmon, Director, Environmental Health & Safety, Firestone Liberia LLC. "Visits like this demonstrate our company's commitment to engaging with future generations of learners in an effort to ensure a more sustainable future for Liberia."
"We were able to see for ourselves the functions of various components of the wastewater treatment process, as well as how Firestone Liberia is using vegetation in its secondary wetland treatment. The experience was an eye-opener for many of us, and the tour provided clear answers to our questions. We leave with a positive image of Firestone Liberia," said Ezekiel Ngoloe, UL student studying Water and Environmental Engineering. 
"On behalf of the College of Engineering, University of Liberia, I extend our appreciation to Firestone Liberia for the hospitality shown to our students during this field trip. The experiences and lessons learned were vital to our students. The visiting students are genuinely excited about the opportunity to be led on a guided tour of the company's production facility, wastewater treatment plant, wetlands, and laboratory," said Instructor Immanuel B.K. Freeman, Department of Civil Engineering, University of Liberia.
Firestone Liberia operates within the regulatory requirements of the Liberian EPA, including conducting regular and ongoing testing of wastewater compliance from its operations. The company's new wastewater treatment facility utilizes an activated sludge process to reduce organic compounds in its effluent. The process also allows a portion of the treated wastewater to be recycled back into the rubber processing plant.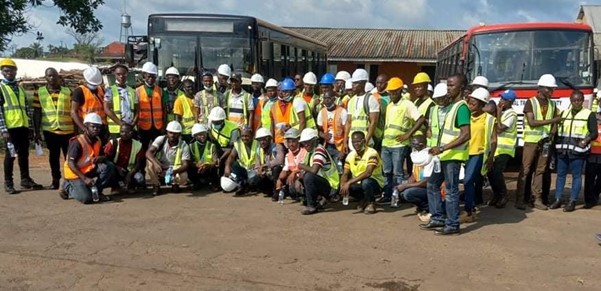 Students from the Civil Engineering Department of the University of Liberia on a study tour at Firestone Liberia