Firestone Liberia's Senior High School recently participated in the 2020 National High School Debate Championship. This is the third year that the school's debate team participated in the prestigious national championship.
After advancing to the regional championship in 2019, the debate team progressed significantly this year, reaching the national championship and only being eliminated late in the competition by the eventual winners of the championship.
The Firestone Liberia debate team received a number of awards, a testament to the team's progress and competition performance. Team member Benedict Bundoo was awarded the MVP Runner-Up Medal. Coach Enock Brooks was voted the Most Outstanding Coach of the Championship, and the debate team was voted the Most Outstanding Team based upon the number of competitions won and for their discipline throughout the championship.
"We want to congratulate our debate team for performing so well in this year's championship, despite the many disruptions caused by the pandemic," said Mr. Gayflor, principal of the Firestone Liberia Senior High School. "In particular, we want to thank Coach Brooks and Marbue Richards, our extracurricular activities coordinator, for ensuring our team was on track for the championship."
Expanding extracurricular activities in Firestone Liberia's school system, which is the largest of its kind run by any concessionaire in Liberia, is a core objective for the company. In addition to providing free education to all of its employee's dependents, Firestone Liberia strives to ensure that students in its school system are able to develop a broad range of their interests, whether it be in sport or cultural activities.
"The company is grateful to the faculty and administration of the Firestone Liberia Senior High School, who continue to strengthen the school's cultural programs and grow our students' interest in activities beyond the classroom," said Don Darden, general manager, Firestone Liberia. "Education is a core value at Firestone Liberia because of the transformative impact it has on the lives of our students."
Back Row (L-R) Extracurricular Coordinator, Marbue Richards, Clara Grimes, Don Darden, Jile Tawhy and Coach, Enoch Brooks.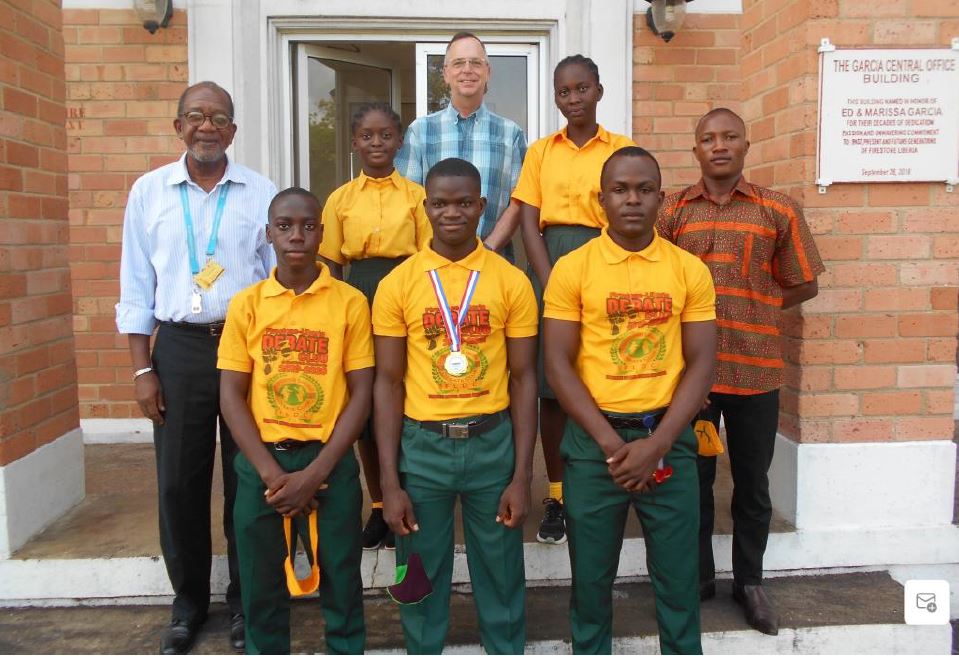 Front Row (L-R) Almon Sumo, Benedict Bundoo and Caleb Saywon. Two other debaters not present for the photo were Albert Shaman and Habakkuk Parker (Captain).