Firestone Liberia continues with its commitment to natural rubber farm advisory services, the program was  suspended in April due to COVID-19. Through the program, Firestone Liberia conducts a range of free technical assistance, advisory,  and hands-on workshops for Liberian rubber farmers.
The program, which began in 2015, aims to invest in local farmers and ultimately improve the sustainability of the Liberian natural rubber industry as a whole.
To date, Firestone Liberia has conducted 102 workshops throughout Liberia's rubber sector, and attended by more than 5000 farmers. The workshops include sessions on productive rubber cultivation, as well as training on latex processing and rubber storage. Additionally, the program provides valuable advice on establishing seedling and budwood nurseries, bud grafting planting, opening of trees for tapping, coagulation of latex and treating diseases.
In addition to the onsite training, advisory services are also available to farmers by phone for quick advice or consultation with the Farm Advisory team.

Firestone Liberia has established a network of 14 budwood nurseries in Liberia to ensure industry availability of buds from high quality clones for optimal growth and yield. Through the company's efforts to establish the high-quality budwood nurseries, farmers in 9 of the budwood nursery locations have begun cultivating their own budded stumps.
"Firestone Liberia is very excited to continue with its workshops and farm advisory services, having already hosted 87 farms in October at our workshop in Yarkollie in Bong county," said Nirmal Paily, Manager of Firestone Liberia's Farm Advisory Services. "Improving the productivity of local farms and imparting specialized training and skills to farmers is crucial to improving their livelihoods."
Firestone Liberia General Manager, Don Darden, adds, "The rubber industry is a core pillar of the Liberian economy, and Firestone Libeira remains committed to ensuring the sustainability of this vital national industry."
A workshop being run by Nirmal Paily, Manager of Firestone Liberia's Farm Advisory Services, in Gowhua, Bong County in March 2020.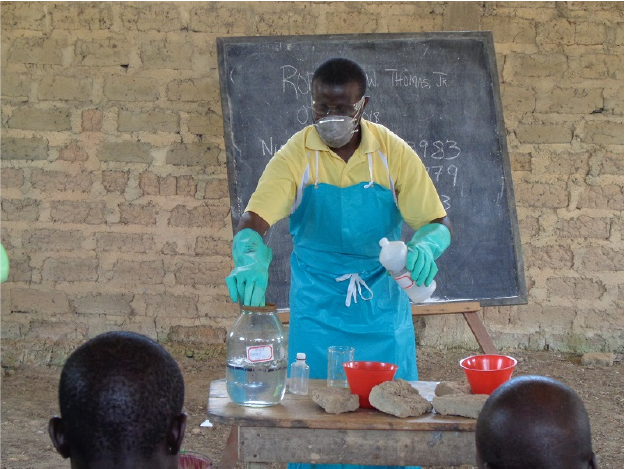 Robert W Thomas Jr , Supervisor at Firestone Liberia's quality control department demonstrating the use of formic acid at a workshop in Gaitanyeah, Bong County in November 2018.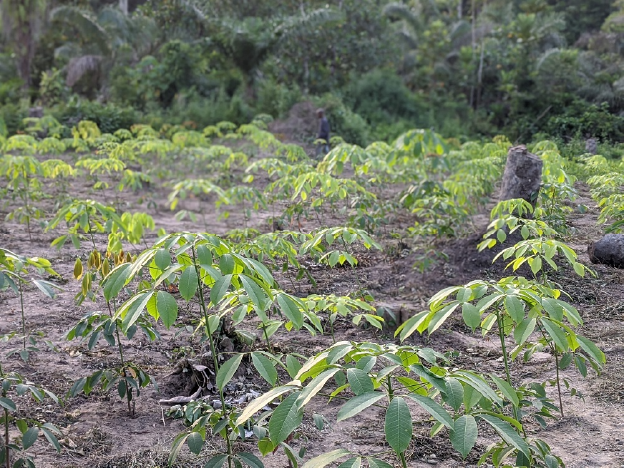 A budwood nursery in Gbalorkpala, Bong County.